National Parks in Montenegro
When one thinks of Montenegro, thoughts come to mind of idyllic beaches where Europeans go to sun themselves. Water lapping up on the calm Adriatic shore. Montenegro is a small country, half the size of Belgium, but what Montenegro lacks in size makes up for in hidden beauty that the world is only beginning to discover.
Welcome to Montenegro's National Parks
Montenegro means black mountain, so you know the landscape must contain a rocky, romantic terrain for hikers, photographers, artists, and anyone who seeks a little adventure. It's a hidden gem full of beauty and biodiversity, making it a secret spot and a must-do for nature lovers and travelers from around the world. Nothing showcases Montenegro's landscape quite like the national parks. With these beloved parks scattered across the central and northern areas of Montenegro, travelers can expect a wide variety of geological features. Each national park has special features, so we suggest seeing all of them if you have enough time on your trip to Montenegro. At the very least, include one of them on your next trip to the Balkans. You'll be talking about them for years to come. Bring your camera because your friends want to see that these jaw-dropping landscapes and friendly hospitality are in the unassuming country of Montenegro, along the calm Adriatic Sea.
Skadar Lake National Park
This national park features the largest lake in Montenegro: Lake Skadar. Skadar is even more impressively the largest lake in the Balkans. Bird watchers will revel in the 270 bird species that live in or migrate to the park throughout the year. Over half of all the birds in Europe call Skadar Lake National Park home. Take a ride on a boat or kayak on the lake past untouched islands, historic hidden buildings, and floating water lilies in this picturesque setting. Several old monasteries are scattered on and around the lake, not surprisingly given the peace, natural beauty, and quiet surrounding them. Vranjina Monastery, one of the country's oldest, dates back to the 13th century. Today one monk lives there. Talk about blissful peace! Local legend says that the tears of a pixie created the lake in this park, and once you lay your eyes on this breathtaking environment, you'll start to believe the story as well.
Read more about Skadar Lake National Park
Durmitor National Park
Durmitor National Park is a beauty. As the biggest of all of the country's national parks, it wows with high peaks, deep canyons, and a rushing river. Durmitor also features 18 glacial lakes, called mountain eyes, cut from glaciers and underground streams. One of the canyons, Tara Canyon, distinguishes being the deepest canyon in all of Europe. The Tara River gorge rips through the canyon, and on almost any day, you can watch rafters brave the water down below, or you can take on the challenge yourself. There are a staggering 50 peaks located in Durmitor, making this a year-round destination for hiking, mountaineering, and climbing. Out of the glacial lakes, Snake Lake is the easiest to hike to and is recommended if you are a novice. The park is home to some large mammals for animal watchers, including brown bear, grey wolf, and European wild cat. There are 130 recorded birds in the park for bird enthusiasts, such as golden eagle, peregrine falcon, and capercaillie. The park is also known for its variety of fish, which includes the endangered Danube salmon.
Read more about Durmitor National Park
Biogradska Gora National Park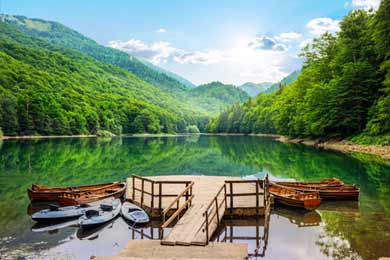 Lake Biograd is the biggest and most easily accessible of the six glacier lakes in the park, surrounded by one of the last primeval forests remaining in Europe. The amount of biodiversity makes this park especially lush, including 2,000 plant species and 80 varieties of butterflies. The vast unaltered spaces, overwhelming amounts of flora and fauna will make you feel like you've stepped right into an adventure story where you are an explorer. Luckily for novice and experienced explorers alike, Biogradska Gora National Park makes exploring the wonder of this lush park easy, inspiring, and full of possibilities. For visitors looking for a truly Montenegrin experience, village farm shepherd huts called katuns are available to stay in. These katuns are the only distinctly Montenegrin architectural design, according to local experts. Imagine telling your colleagues you went to Montenegro on vacation and slept in a shepherd hut!
Read more about Biogradska Gora National Park
Mount Lovćen National Park
While this national park isn't as big as some of the other parks in Montenegro, it has a unique combination of history, nature, and activities that is hard to compete with. Adrenaline junkies find a home at Mount Lovcen, where quad biking and zip-lining are some of the outdoor adventure activities offered. Climb up to one of Mount Lovcen's highest peaks to see the mausoleum of Montenegro's greatest leader, Prince, and poet Petar II Petrović-Njegoš. His legacy lives on in the people of Montenegro because he negotiated to keep most of Montenegro from surrendering to Turkish attacks, and he also wrote famous masterpieces of poetry and literature. This park is a day trip spot for many Montenegrins who bring their families to enjoy a picnic or the spectacular panoramic views. If you have seen a stunning picture of rocky topography in Montenegro, chances are you've seen a picture from this often visited spot.