So you are planning a visit to Alicante city but have no idea where to start? This top 5 list will help you on your way in getting to know Alicante better.
Alicante is a port city situated along the Mediterranean coast on the Costa Blanca. With Alicante airport serving as one of Spains busiest travel hubs it gives you easy access to all the picturesque cities and authentic old towns full of heritage, history, art and festivals on the Costa Blanca. Every where you can find traces of Moorish legacy.
1. Playa Postiguet
This beach is known for its very well maintained golden sand (cleaned every day in the summer), clear blue waters and great facilities. The slope into the water is very gradual so comfortable access for older people and younger children with their parents. Parasol and bed hire available. Not always the cheapest option but nonetheless very comfortable. With a 2-3 minute walk it is very close to the town. Really no need to leave the beach and go into town for food or drinks because there are plenty of cafes and restaurants along the promenade. As an added bonus you get a great view of Castillo Santa Barbara from the beach
To get to this beach, click on the following Google maps link to navigate there: MAP
2. Castillo Santa Barbara
Get there early on a week day and you stand a good chance of finding a parking spot at the top! On the other hand, getting there in the evening, around sunset time, will give you stunning sunset views over the Mediterranean. Either way, you will be treated to an amazing vista. The castle is free to visit, there are signs to guide you around and a restaurant and a cafe are right there at the top.
You can walk up to the top but in the heat of August it can be challenging as the climb is pretty steep. For a couple of euro's you can get into the lift and be taken up there. After your visit you can walk down along a meandering path or take the lift down again. The visit, including a stop at the cafe and the walk down, can easily last a couple of hours. Take your time and enjoy the views in good company.
To get to this location click on the following Google maps link to navigate there: MAP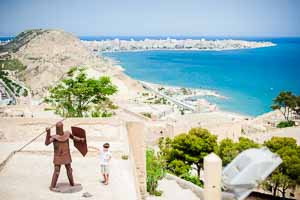 3. Barrio Santa Cruz
For most people this is the most fascinating part of Alicante - the old town. The picturesque narrow streets and houses are decorated with flower pots. The well preserved traditional architecture is so full of colours that it looks like a scene from a postcard. No surprise that apparently many artists live there. Walking through this part of the town you can also gain access to Castillo Santa Barbara. On your way you can stop at one of the restaurants enjoy a drink or lunch and watch the world go by. At night time this place is buzzing and many visit the restaurants, tapas bars and cocktail bars.
To get to this location click on the following Google maps link to navigate there: MAP
4.Mercado Central
A market situated in an old historic building that will tickle all your senses and make you realise what you are missing back home. Full of fresh produce that is purchased by the locals for their weekly shop. The quality of the meat and fish if just fantastic, you can see the Spanish take huge pride in their produce. Prices are also very acceptable.
To get to the market click on the following Google maps link to navigate there: MAP
5. Basilica St. Maria
This church was built in the 13th century in Gothic style. It is the oldest church in Alicante. Walk-in and appreciate the magnificent altar and lots of gilding. Open every day 10.30-12.00. The Maca museum for contemporary art is located right across the church square. Two birds with one stone. The Basilica St. Maria is a must-see if you visit Alicante!
To get to the basilica click on the following Google maps link to navigate there: MAP