As an expat, the great thing about North Macedonia is that you can enjoy a professional career in a stable environment, with guaranteed economic growth and protect your belongings through a robust legal framework. Many private companies are willing to employ skilled labour from all over the world, while the market offers services related to business activities like consulting and marketing.
Being an expat in North Macedonia also means having access to amenities, ranging from pharmacies and shopping malls to supermarkets and even online stores. The housing market offers a variety of choices, as the country has everything from single-family homes and villas to high-rise apartments near the city centre, so you can choose whatever fits your taste best.
Cost of Living in North Macedonia
The cost of living in Macedonia is comparable to most European countries, so you can expect it to be around the same as where you currently live. At the same time, because of its geographical location and proximity to Greece, Bulgaria and Serbia, North Macedonia's cost of living will be lower than other countries in Western Europe. Also, the prices are lower for specific products, so it is expected that your monthly expenditure will be considerably lower if you compare it to other countries in Europe.
Working in North Macedonia
There are many opportunities to work in North Macedonia, whether for a local company or a foreign one. The government offers companies incentives to invest in the country, while the market is largely untapped and provides a great investment opportunity because of its growth potential.
However, you will need a visa and residence permit before you start working in North Macedonia. To obtain one, you will need to provide the following documents:
- Residence permit application form.
- Four passport photos.
- Passport valid for more than six months.
- Academic diplomas and work experience certificates.
- Employment letters or contracts with employers, if you already have one. You can apply for your visa and residence permit at the Ministry for Foreign Affairs.
Your residence permit is valid for one year and can be renewed if necessary. If you want to stay longer than three months, you will need to apply for a visa at the consulate of North Macedonia in your home country before travelling.
Getting Married in North Macedonia
If you decide to get married to a North Macedonian citizen, you must travel to the county where the marriage will take place and apply for a visa. You can get married after three months of having your visa.
Once married, you will receive a residence permit valid for up to one year or until further notice from the Ministry of Internal Affairs. If you want to stay longer, you must apply for a permanent visa from the Ministry of Internal Affairs.
The Permanent Residence in North Macedonia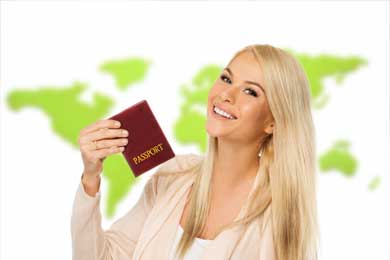 After five years of legal stay in North Macedonia, you can apply for permanent residence, which entitles you to all benefits and freedoms enjoyed by Macedonian citizens without having to give up your country's citizenship. There are two ways to get permanent resident status:
By proving that you have sufficient property in North Macedonia.
By showing that you can speak and understand the Macedonian language. You can apply for permanent residence by submitting the following documents to the Ministry of Internal Affairs:
Application form filled out on both sides.
Four passport photos taken within the last three months.
Personal identification card or passport.
Certificate that you have fulfilled the five-year legal stay in North Macedonia.
Property document, if applicable.
Healthcare System in North Macedonia
If you are an expat in North Macedonia, you will be pleased to know that the healthcare system is considered better quality than many Western European countries. Also, there are plenty of health care facilities available throughout the country, so you can choose between private and public clinics or hospitals - whatever works best for your needs.
North Macedonia is a very safe place for expats to live, so you can expect to enjoy your time here without any security concerns. The country's Constitution provides the right to personal protection and safety, so it is illegal to possess unregistered guns. Also, North Macedonia has one of the lowest crime rates in Europe, making it an ideal destination for expats looking to relocate.
North Macedonia's Immigration Policies
Expats relocating to North Macedonia will find that the country has strict entry requirements, but once you have moved there, it is one of the most accessible places in the world to obtain citizenship. Nowadays, North Macedonia allows dual citizenship, so it is possible to be a citizen of another country and get a North Macedonian passport, which will enable you to enjoy the same rights as any other citizen in the country. In addition, North Macedonia offers easy residency for anyone who wants to live there, so if you have family members who wish to move with you but aren't citizens of North Macedonia yet, obtaining residency as an expat is easy to do as well.
City Infrastructure and Public Transportation in North Macedonia
When it comes to city infrastructure, North Macedonia has developed considerably during the past few years, offering a very high standard of living. For example, over 80% of the population has internet access, and there are plenty of digital and online services available. Also, the country is regarded as one of the most technologically advanced in South-Eastern Europe, so it has above average telecommunications services, transportation infrastructure, and entertainment venues for expats.
North Macedonia's Rental Market
If you are an expat looking to move into North Macedonia with your family, you will be pleased to know that there is a very high standard of rental housing in the country. Most properties are new, bright and equipped with modern appliances for your convenience. Also, many expats choose to live in serviced apartments when they first move to North Macedonia because it is an easy way to adjust to their new surroundings while having all of the amenities they need nearby.
Click here to view properties for rent : Properties for Rent in Macedonia
Recreational Activities and Entertainment in North Macedonia
As an expat, one of the essential aspects you are looking at when relocating is to make sure plenty of recreational activities is available. Luckily, North Macedonia has a lot to offer for all sorts of people. From white sand beaches to mountains covered with pine forests, you can enjoy water sports, hiking and biking trails, ski resorts, ancient ruins... the list goes on.
There are plenty of opportunities for expats to enjoy their free time in North Macedonia. Most people relax by going out with friends or family members to the cinema, theatre, art galleries etc. Still, they can also enjoy more active activities, such as playing sports at the local fitness centres or enjoying a glass of wine at one of the town's many pubs and bars.
The Education System in North Macedonia
Expats relocating to North Macedonia with their children will be pleased to know that they have access to a high quality of education. The country has nine universities, many colleges and more than 300 primary schools. Also, there are over 600 professional teachers' training centres offering specialised courses for new expat teachers moving to North Macedonia.
That said, the bilingual education system in North Macedonia is one of the most popular choices among expats relocating with their family members. Not only can children receive an excellent education at international schools, but also they learn two languages simultaneously, giving them a headstart when it comes to future career opportunities.
Living in Macedonia is an experience like no other, one of discovery and adventure with friendly locals who are more than willing to welcome expats into their community. The country has historical landmarks that can keep you busy for days or exhilarating mountains that will make your heart race. Whether you want to stay a couple of months or enjoy it as an expat, North Macedonia has something unforgettable, always waiting around the corner.