Choosing the right place to live can be a challenge. However, if you're considering Macedonia, be sure to look at North Macedonia. In particular, pay careful attention to Skopje, which is a beautiful place to call home. In fact, if you research this area a bit, you'll find that it has a lot of wonderful things to offer.
It's Easy To Get Around
Skopje is a large city, but don't worry. It's incredibly easy to get around even if you don't own a car. Public transportation via bus is widely available. Even better yet, these buses are affordable. Walking is also made easy in the city for those who like to get in their exercise.
Property Is Available For Purchase
A lot of people are curious about Skopje real estate, especially if they hope to buy property there, instead of renting. The good news is that real estate in Macedonia tends to be affordably priced.
Furthermore, Skopje often has quite a few properties and property types available for purchase. Whether you want to purchase a small or large house or an apartment, there's a good chance you can find a property you want at a reasonable price. For best results, though, you should work with a qualified real estate firm that is familiar with the local market. You can browse property listings on our website Skopje Apartments for Sale or Skopje Apartments for Rent
You Can Experience Nature With Ease
If you enjoy being surrounded by nature, then you should love Skopje living. While Skopje is a city, it has several green, natural areas for residents to enjoy. Mount Vodno, for example, is a wonderful spot for walking, jogging, hiking, biking, or picnicking. There are also a variety of parks where you can go to experience the city's rich plant and animal life.
There's A Great Nightlife Scene
Some individuals love going out, having a few drinks, and meeting new people. If you're one of them, you're sure to be impressed by Skopje's impressive nightlife scene. College students and adults alike frequent the bars and clubs of the city. Plus, a variety of drinks can be found in the city limits, including craft beers, delicious wines, and unique cocktails.
You Can Get An Education
Skopje boasts several secondary schools. This makes it an ideal place to live for people with older children hoping to get a great education. Additionally, the city is home to several private and public universities, made up of both locals and those from far away. Whether you are looking for a unique place to get an education or a place where your children can learn and grow academically, Skopje is an excellent choice.
Culture Is Everywhere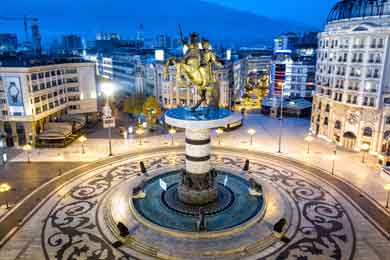 In Skopje, education doesn't have to end just because the school day does. There are all kinds of opportunities for cultural enrichment for people of all ages.
In particular, the city is known for its many museums. These include a Holocaust museum, an archaeological museum, and a natural history museum, among others. You can also explore beautiful landmarks, check out an art gallery, or view historic buildings.
Shop To Your Heart's Content
If you enjoy shopping, Skopje is a wonderful place to be. In the city, you can find malls and specialty shops. Additionally, one of the area's most popular destinations is the Old Bazaar. Loved by tourists and locals alike, it's a great place to find rugs and home goods, clothing, and tasty street food.
You Can Entertain Visitors With Ease
Many tourists flock to Skopje each year. Thus, when you make a home there, don't be surprised if everyone wants to come and visit you. There are even two airports for guests to fly into.
You'll have no shortage of ways to entertain your visitors either. There's just so much to see and do! Plus, the city is home to a range of hotels that vary greatly in price. All of your guests should be able to find nice, affordable accommodations and are sure to have a wonderful time exploring your new home.
The Food Is Amazing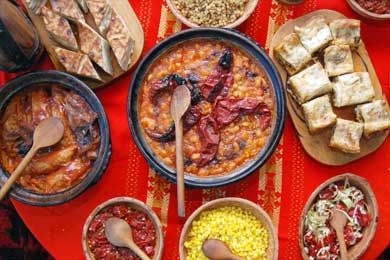 Foodies will definitely love living in Skopje. That's because it has no shortage of delicious foods or places to eat. Stroll down the streets to buy from vendors. Or, if you prefer, there are restaurants ranging from the casual to the elegant. You can even find American style fast food and pizza. Plus, the city offers plenty of traditional and delectable Macedonian foods as well.
The Weather Is Nice
A final reason to love Skopje living is that the weather tends to be quite nice and versatile. You'll enjoy warm summers and winters that, while cold, are relatively mild. If you want to experience all of the seasons instead of living somewhere that stays the same all year round, Skopje is a good place to be.
Ultimately, many would agree that Skopje is one of North Macedonia's best spots. If you think it could be a good fit for you, try visiting the area to see how you like it. You can also connect with a local realtor to start exploring your options and to see what's available. If you're like many people, you'll quickly discover that Skopje is the perfect place to call home.