Podgorica is the capital city of Montenegro with a population of 200,000 poeple. Not only is it a modern city, but also a city where people can enjoy the vibrant nightlife. In the narrow alleys you will find interesting local cafes and bars. Also in Podgorica there are a couple of very good nightclubs where you can dance away into the early hours of the morning.
Whether you go to a cafe, bar, or nightclub, there is plenty of fun to be had in the capital city of Podgorica.
Cafes
Much of the nighttime fun in Montenegro takes place in cafes. Cafes with the best patios are among the most popular places to spend an evening. Don't worry, though, Cafes are not just for coffee. They all offer beer, wine, and usually hard alcohol.
Bokeška Street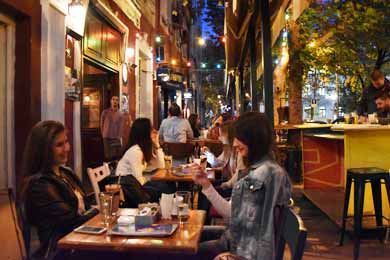 This beautiful street is full of cafes with beautiful terraces. During the summer months, the cafes fill quickly with a mixture of locals and tourists. This makes it a great place to make friends and enjoy some of Montenegro's best nightlife.
Njegoseva Street
This is another street filled with bars and cafes, all right next to each other. Njegoseva Street also has no shortage of places to grab a quick bite to eat. So there is no need to drink on an empty stomach.
Bars
If you enjoy live music, there are many bars to choose from all over the city.
Street Bar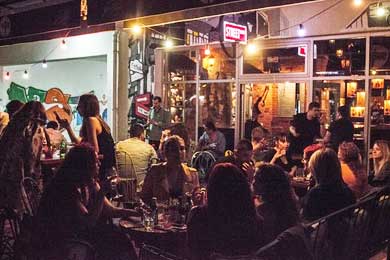 The Street Bar has one of the most unique atmospheres around. For one, the bar looks like a street. Secondly, there is live Jazz / Blues music every night. You can grab some drinks and listen to the music inside the bar or go outside to enjoy their beautiful outdoor garden.
Review 1: Amazing place, a little hidden paradise with excellent music and 'rakija ' and vine selection.
Feels like home:)
Review 2: Excellent music, service and atmosphere. One of the best places in Podgorica. Relaxing and friendly.
Bar Skaline
If you are looking for more of a beach bar feel, Bar Skaline is the place for you. This open-air bar is located at the point where the Ribnica and Moraca rivers meet. Its location makes it perfect for daytime relaxation as well as nighttime drinks.
Clubs
There are many popular clubs to choose from if you are looking for somewhere to enjoy a night of dancing.
Mr Stefan Braun
Mr Stefan Braun is one of the higher-end establishments in Podgorica. It is also one of the most popular with beautiful Montenegrin girls. If you are looking for a place to drink, dance, and meet beautiful Montenegrins, this is the place for you.
Culture Club Tarantino
This trendy club is located in the city center. Similar to Mr Stefan Braun, it is also popular with the local women. The club promotes local music, which makes it a hit with the local students. The local music also makes this a great club to enjoy all the usual late night activities while also experiencing some of the local cultures.
Imanje Knjaz
Imanje Knjaz is located in a hotel just outside the city center. Every weekend starts with live performances by local pop and folk groups. The resident DJ then takes over with dance music for the rest of the night. During the summer, the party often moves outside to one of the large terraces. If you get hungry, you can also check out one of the hotel's restaurants.
Ethno Jazz Club Sejdefa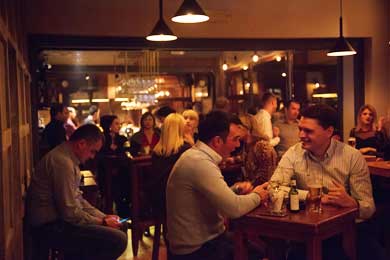 Music lovers are in for a treat here. Ethno Jazz Club Sejdefa offers live Jazz on Wednesdays, Thursdays, and Saturdays. The relaxing atmosphere is perfect for enjoying live music as well as some drinks. Their wide selection of wine and homemade rakija is particularly popular.
Cafe, Bar and Club Mixture
Not every establishment fits perfectly into one category. One of the unique things about Montenegro is that many places fulfil multiple functions. It is not uncommon to find businesses that are cafes by day and clubs by night.
Cafe Berlin
Located in the city center, Cafe Berlin is one of the most popular establishments around. By day, you can relax and enjoy a coffee. By night, the place is packed with a mixture of locals and tourists.
Buda Bar
During the day you can enjoy a coffee in one of the two gardens. But don't let that fool you. Buda Bar stays open late and turns into a popular party spot. The live music, relaxing atmosphere, and great location make it very popular with students, tourists, and locals. The bar is usually packed until late in the evening.
Regardless of what kind of nightlife you are looking for, you can find it. There are cafes where you can relax and enjoy conversations over drinks. There are bars where you can enjoy the local culture and alcohol. You can also find a club where you can enjoy dancing and meeting beautiful Montengrian women. Whatever you are looking for, you can find it here in Podgorica.