The Beautiful Little Island Getaway
If nature reserves are something that is of interest to you, then Lokrum Island may just be that perfect day trip on your vacation or a quick getaway to Dubrovnik! This small island is located close to Dubrovnik and can easily be seen from many different places in the city. This island is a great way to spend time away from all of the constant hustle of Dubrovnik! You will enjoy beautiful views, a lot of peace and serenity and some calm, peaceful waters!
Lokrum Island is covered in beautiful vegetation and has many unique plant species. Some of these plant species are even imported from other tropical areas. This island was actually purchased by Maxilimilan I in 1858, an archduke of Austria. A lot of the vegetation that is seen on this island is from the archduke's grand gardens that were created during the ownership of Maxilmilan I.
If you are a lover of the popular TV series Game of Thrones, this is another reason to head on over to visit Lokrum Island. This is one of the locations where the filming of this show took place!
This island also provides many great pictures, for those who are photography enthusiasts! Because the vegetation is so green and beautiful, there are numerous opportunities to get that perfect picture! The island makes it easy to take a beautiful image without much effort or editing!
How to Get to Lokrum Island
A boat service is provided, leaving Dubrovnik Old Town port and going directly to the island. These boats are run daily during the months of April through November. The frequency of service does increase during the summer months, as these are common months to go to the island. This will ensure that there is less time waiting for the next boat to go to the island. The time it takes to get to the island from the mainland is only 10 minutes. It is a short and quick ride!
For those that are more adventurous and prefer to do more physical activity, kayaking over to the island is another option! There are local tour groups that will kayak together from Dubrovnik to the island. This can add another fun activity onto your itinerary when visiting Dubrovnik.
Things to See and Do on the Lokrum Island
One thing that is common among visitors is checking out some of the more common interests on the island and then spending the afternoon hanging out by the sea, even doing a little swimming. There are plenty of flat locations of rocks to lay out a towel and do a little sunbathing while enjoying the water, as well.
It is important to remember that since this island is a nature reserve, there are rules that need to be followed. There is no smoking allowed on the island. This helps to keep the air pure and clean for everyone to enjoy the island and all it has to offer. In addition, make sure to clean up after yourself before you leave!
Botanical Garden
The garden was founded back in 1959. Many of the beautiful vegetation and plants that are seen today, though, were actually planted back during the 19th century during Maximilian I's ownership. The garden has many different varieties of plants: palm trees, eucalyptus trees and cacti, to name a few.
The Monastery
This was built originally during the 11th century but the parts that are visible today were actually built during the 15th and the 16th centuries. Unfortunately, this was damaged pretty badly during the earthquake in 1667.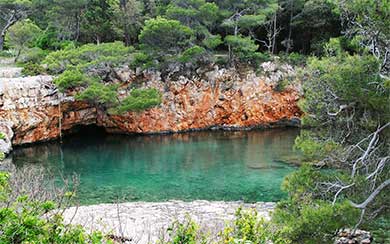 The Dead Sea
This lake is still currently a salt lake and is a great spot for those who enjoy relaxing in the lake's calm waters.
Charlotte's Well
This well is a common spot to visit among visitors. It is unknown exactly what it was used for but a common theory is for bathing and to help maintain the island's vegetation.
Fort Royal
This spot is built on the island's highest point. The views that are seen from the top are simply gorgeous! The path to the top is uneven, so be prepared with good walking shoes!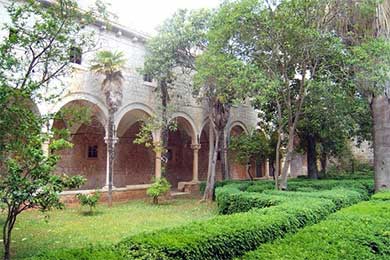 Staying Overnight on the Island
Since this is a nature reserve, there are no accommodations to stay overnight on the island. It also is forbidden. Since it is so close to the mainland and to Dubrovnik, though, the island can be visited for multiple days during your stay!
Food and Drinks on the Island
A lot of visitors will bring their own food and drinks that they can enjoy during a picnic lunch or snack while visiting. This can be a great option for those looking to save some money! If you would like to purchase food and drinks on the island, there are plenty of options to choose from! There are bars, restaurants and even small cafes.
Some options to consider are:
Before deciding to visit the island, it is important to remember that the dates of operation are only from April to November. You won't be able to find a way over to the island in the months outside of those dates! Whether you are coming to Dubrovnik for a quick visit or a longer stay, this island is a great addition to the itinerary! The beautiful vegetation that is seen here is like nowhere else!
Don't forget to pack or wear some good walking shoes, as you will be doing a lot of walking on the island! If you want to check out the beautiful, calm waters, make sure to also pack a swimsuit and a towel! You can enjoy laying on the rocks and sunbathing after swimming, as well. This island will make a great addition to your trip or your vacation!