Beaches and Croatia
Croatia is a country located along the coast of the Adriatic Sea that is also bordered by Hungary, Serbia, Montenegro, and Bosnia and Herzegovina. The Adriatic Coast is the warmest part of the country; it has a Mediterranean climate with dry, hot summers and rainy, cool winters. Winter temperatures along the Dalmatian coast average 5 to 10° C (41 to 50° F) in the winter and 26 to 30° C (79 to 86° F) in the summer.
Croatia has over 1000 islands, 48 of which are permanently inhabited. Krk and Cres are the biggest islands; each one has an area of about 156 square miles. Croatia's location along the Adriatic Sea and its many islands mean there are scores of beaches in Croatia.
Other articles you might like
Over one hundred beaches in Croatia have earned the Blue Flag, a certification awarded by the Foundation of Environmental Education. The Blue Flag indicates that a beach, marina, or tour boat operator has met certain stringent environmental and quality standards. If you are the tourist that enjoys soft white sand beaches then you are in luck when you visit Croatia.
#1: Zlatni Rat (Brač)
Zlatni Rat Beach is located on Brač Island, which is one of the southern islands. It is known for its unique tongue-like shape, which has earned it both a Blue Flag and governmental protection as a natural monument. Wind and waves cause the tip to change direction and shape. One side of the beach is calm a perfect for swimmers, while the other has high waves that attract surfers. The beautiful beach is within walking distance of a town called Bol, which offers plenty of accommodations, restaurants, and attractions. Zlatini Rat means "Golden Cape," and it is an apt description of the beach's yellow pebbles, which are fine enough to feel like sand. The paradise beach is also known for its clear turquoise water. In addition to swimming or sunbathing, you can also do water sports sailing, kayaking, or windsurfing. You may also find the shell of the curly sea snail, which some locals call the "lucky stone." The inland pine groves conceal the ruins of an ancient Roman villa. Some would say the Zlatni Rat Beach is the best beach in Croatia, but we would welcome you to explore for yourself.
#2: Punta Rata (Brela)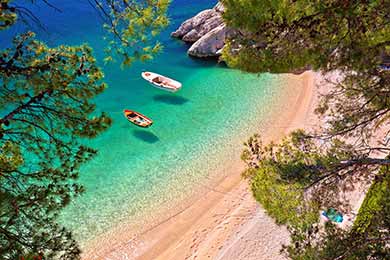 Punta Rata is a pebble beach located within the Makarska Riviera near the town Brela. One of the beach's claims to fame is the Brela Stone, a large boulder in the water that is covered with pine trees. There are also pine trees, some of which are over a century old, surrounding the beach. Punta Rata has earned the Blue Flag for its clear blue water and overall cleanliness. You can also enjoy a view of the Biokovo Mountains. You can go parasailing or rent a jet ski, paddleboat, or kayak. There are a restaurant and cafes on the beach, and you can rent umbrellas and beach chairs. There are also showers. Punta Rata has a number of paved and unpaved trails running along the coast and going further inland. You can explore these trails on foot or rent a bicycle.
#3: Betina Cave
Betina Špilja is sheltered by an overhanging cave, and it is south of Dubrovnik. Betina Špilja means "Bete's Cave," with Bete being the nickname of the 16th-century scientist Marin Getaldić who performed a variety of experiments in the cave, including constructing the first parabolic mirror.
Betina Cave can be accessed only by water, so you will have to either call a water taxi or take a boat. Betina Cave has no amenities, so you will have to bring your own blankets, drinks, and snacks. The cave means you are protected from the sun except during the late morning.
#4: Kamenjak National Park
The Kamenjak National Park is located on the southernmost tip of Istria, the Adriatic Sea's largest peninsula. It is thus in northwestern Croatia. It is also south of the resort town Pula. The terrain dates back to prehistoric times, and people have actually found dinosaur fossils. You can hike and explore the park, and the aptly-named Dinosaur Path has fossilized footprints, plus life-size models of dinosaurs. You can also go kayaking or windsurfing; a company called Windsurf Station provides lessons as well as rental kayaks and windsurf boards. The beach itself is rocky and lined with cliffs that can reach 70 feet in height; it also boasts about 15.5 miles of small caves and coves. Daredevils will jump off the cliffs into the water below. Dolphins and monk seals sometimes make appearances. While you will have to bring your own towels and gear, you can buy food and drinks at the Safari Bar.
#5: Banje Beach
Banje Beach is a pebble beach with an excellent view of Dubrovnik, and it is the town's most popular beach. Fans of "Game of Thrones" will know Dubrovnik as the setting for King's Landing, and you can explore its walls and old town. The beach is a little beyond the Lazareti outside Ploče Gate. You can also go swimming in the clear water, and then enjoy a meal and drinks at the Banje Beach Restaurant. Alternatively, you can try Restaurant Horizont which serves traditional Croatian dishes. The beach club provides rental umbrellas and lounge chairs. You can also rent banana boats and kayaks or go wakeboarding, water skiing, or parasailing. Wakeboarding, also known as wake surfing, is a variant of water skiing in which you stand on a short board with bindings to hold the feet in place.
#6: Zrce Beach (Pag Island)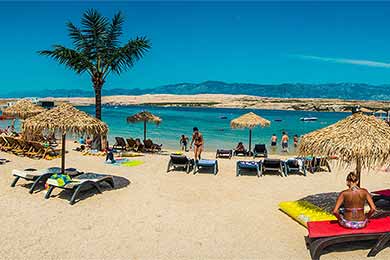 Zrce Beach, which is located on the Island of Pag, is known for its parties and summer music festivals. Examples include the Black Sheep Festival (electronic dance music) and BARRAKUD Music Festival (techno). There are three clubs you can visit: Papaya, Kalypso, and Aquarius. You can also check out different bars and discotheques. Zrce Beach also has party boats, open-air restaurants with pools, hot tubs, and Jacuzzis. You can also enjoy water slides, beach volleyball, rental boats, and water scooters. Zrce Beach first earned a Blue Flag certification in 2003 for its cleanliness and excellent facilities. A bus runs to and from Novalja, the nearest city, every half an hour.
#7: Sunj Beach
Sunj Beach is located on the island of Lopud, which is off the coast of southern Croatia. It is about a half-mile long and sits along the horseshoe-shaped bay of the same name. Long and sloping hills surround the sand beach. Getting to Lopud requires taking the Drubovnik-Šipan ferry. The ferry crossing generally takes about 50 minutes. There are no cars on Lopud, so you will then have to hike, bike, or ride a rental golf cart the rest of the way to the beach. Fortunately, there's a bar at the back of the beach, so you can quench your thirst upon arrival. Sunj Beach is one of the few sandy beaches in Croatia, which means you can comfortably sunbathe. Clothing is optional on the nudist or naturist section which covers one half of the beach. People have lived on Lopud since at least the 7th century, so after you're through swimming or sunbathing, you can explore the various forts, monasteries, and palaces in the area.
#8: Uvala Dubovica
Uvala Dubovica or Dubovica Beach on Hvar Island is about eight miles away from the port town of the same name. Hvar Port dates back to the Renaissance and is known for its night clubs and bars. Uvala Dubovica is a pebble beach near a manor house that was built in the 19th century and is owned by the Kolumbić family, who will rent it. The bay is shallow, which makes it a good choice for families with small children. Since the beach is shaded from the wind, the turquoise water is calm, which makes it easy to observe any sea life. The beach is also popular with people who own motorboats and yachts. The small parking area can accommodate around only 50 cars, so you might be better off renting a scooter or bicycle and travelling along the coastline. The restaurant on the beach offers local cuisine.
#9: Stiniva Beach
Stiniva Beach is located on the southern side of the island Vis, which is best known as the hideout used by Tito's Partisans and British soldiers while fighting the Nazi invasion during World War II. Getting there takes a 2.5 hour-long ferry ride from the mainland town Split. If you're already on the island, you can try hiking down the south slope, which is admittedly steep. The beach itself is white and pebbly. Stiniva Beach has become more popular in recent years because of its beauty, but the difficulty in reaching it does keep the crowds at bay. Once you get there, you can swim, sunbathe, or go snorkelling.
#10: Sakarun Beach
Like Betina Cave mentioned earlier, Sakuran Beach is kind to those who can't tolerate a lot of sun. It's surrounded by tall pine trees that provide shelter from the sun's UV rays. That shelter makes Sakuran Beach a good choice for families with children. Another selling point is the shallow water where even small children can safely play.
Sakuran Beach is located on Dugi Otok, which means "Long Island" in Croatian. It is the seventh-largest island in the Adriatic Sea and is west of the mainland city Zadar. Sakarun Beach is near the resort town Božava, and a train runs between the town and the beach every two hours. You can also get to Sakarun Beach by boat, and it does have a marina. The beach also has two bistros that provide drinks and light snacks. While Sakuran Beach does have facilities, they are only open during the high season. If you visit during the off-season, you will have to bring your own food and gear. Dugi Otok does have beachside rentals if you want to stay on the island.