Top 10 Best Things To Do In Dubrovnik
For the most part, anyone that visits Dubrovnik would have a hard time trying to experience everything that the city has to offer. Some of the more notable of these activities include sightseeing its historical architecture, finding local hidden cuisine spots, or comparing the many different monasteries and monuments it has around the city. Overall, Dubrovnik has proven to be such a unique city with its welcoming people and virtually endless recreational amenities. However, if you still find yourself wondering what to do in Dubrovnik, we have narrowed down the list of things to a manageable ten. While no location can ever guarantee they have the best local experiences in the world, these activities will at least ensure you are a part of the best Croatian experiences in the city. With this in mind, here are the top ten best things to do in Dubrovnik.
Other articles you might like
#1: Tour The Dubrovnik City Walls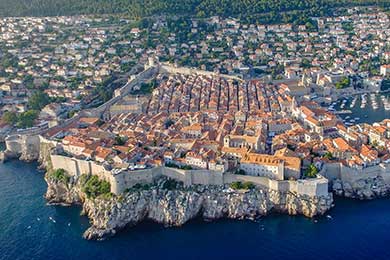 When it comes to what to do in Dubrovnik, one activity that has a good claim as being the best is touring the Dubrovnik city walls. While it might not sound like the most thrilling activity, it certainly makes up in other areas with its rich history and recent importance. For one, the Dubrovnik city walls were the centralized piece that qualified it as a cultural and historical platform of the city. This signifies that the city walls are the primary source for learning about the history of the city through scientific or forms of significance. No to mention, they are also protected by international treaties which only adds to their importance. Apart from this, the walls are worth visiting simply to take a look back in time. With a history dating back to the 15th century, the walls allow people to picture how life must have been back then. ↑ Top
#2: Explore The Old Town Of Dubrovnik
Exploring the old town of Dubrovnik serves a similar purpose that touring the city walls do. Overall, they give visitors an insight as to how to live must have been in the past. However, unlike the city walls, the old town gives a more specific look into the past culture, cuisine, and lifestyles must have been like. Structurally, the town is an amazing place to explore because it looks almost surreal from within and afar. Some people compare it to an old town set from a movie. Apart from the look, there are many other amenities the city offers such as local food, visitor getaways, and cultural gatherings as well. As for the main attraction of the old town, that would be the main Placa which is the old main road of the city. Here, the town is situated so that people get a straight stretch of local buildings, restaurants and hot spots to walk by. ↑ Top
#3: Experience That Cable Car Ride!
If you are looking for an alternative way to explore or view the city from afar, experiencing the cable ride is by far the best way to do just that. In many ways, the cable car ride in the city has been one of the main attractions for foreigners. In other words, many people make travel to the city just to experience these cable cars. Needless to say, it is hard to argue against anyone going through all that effort for an unforgettable experience. More specifically, the Dubrovnik Cable Cars are situated on the crest of Mount SRD. This makes them over 400 meters on top of the city. Even better, the ride down is cut down to just a few short ways inland. Another interesting fact about the cable cars is that they also hold historical importance. Having been created in the late 1960s, the cars were originally created for local traveling convenience as opposed to a fun ride as they are now. ↑ Top
#4: Enjoy The Game Of Thrones Tour
In case you have been living under a rock for some time now, the Game Of Thrones television show has captured the attention of millions of people since its run. Virtually everyone has either watched it or has some connection to it through accessories and collectibles from the show. As great as that is, how does an actual Game Of Thrones tour sound. Well, this is exactly what Dubrovnik offers to anyone that wants to take part. Having been a prominent filming location for the show, the city now offers specific tours of the locations shot for the series. This includes touring areas such as the Kings' Landing, the capital of the Seven Kingdoms, and other similar spots. Also, the tour allows you to enjoy the beauties of the city without the hassles that come with other touring methods. ↑ Top
#5: Go Sea Kayaking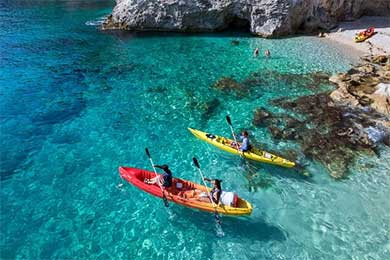 We can't talk about the city Dubrovnik without mentioning one of its best qualities. As for what that is, that would be the blue waters of the Adriatic sea. The sea itself is the biggest reason why the city has been able to stand the test of time. It has allowed for prosperous activities as a port town that allowed it to grow. That said, those same waters can also be used for recreational activities such as going sea kayaking. Among other activities, sea kayaking in Dubrovnik is unique in that it allows people to explore offshore islands to local nature reserves with freedom. You can even tour the city's historical and significant artifacts such as the city walls and old town from the waters. As if that wasn't enough, there are also options for kayaking guides if you don't want to do the extra work. that kayaking requires. ↑ Top
#6: Go On The Blue Cave Tour
The blue cave tours are one experience that you will not find anywhere else in the world. That should be enough reason to consider making this experience as a must-do activity in Dubrovnik. As for what it is exactly, the blue cave tour is an expedition to visit an otherworldly and unique cave system in the city. The caves are situated underwater and are most known for giving off a blue hue around it. The tour typically lasts around one hour but can be booked for longer. In regards to what the tour includes, it offers people a professional crew for guidance, snorkeling equipment, and even beverages for before and after the tour. ↑ Top
#7: Visit The Lovrijenac Fort
Among the many significant landmarks that can be found in Dubrovnik, the Lovrijenac Fort is easily the most distinguishable due to its location and characteristics. Originally, it was created to fend off invaders from taking over the city. Today, it stands as a spur that measures over 40 meters above the waters with sights that are hard to beat. Not to mention, it's historical significance as a city-fortress gives it a nice blend of everything you would want in a local activity. Even more interesting than that are the local festivities that take place here year-round. From performances of hamlet to sightseeing excursions, visiting the Lovrijenac Fort is sure to offer more than you expected. ↑ Top
#8: Visit The Historic Dubrovnik Clock Tower
By all accounts, the Dubrovnik clock tower is the best source for getting a sense of the local architecture and city structure that has held together over time. As yet another historical landmark like the city walls and old town, the clock tower serves similar purposes in setting the mood and environment of pass times. As far as measurables are concerned, the clock sits at 31 meters in height. Also, with a history that dates back to the mid-1400s, it's safe to say that the clock tower is the most important historical artifact in the city. Structurally, it also has two additional bronze figures and a bell to complete what is already an amazing thing to appreciate. ↑ Top
#9: Go To The Dubrovnik Beaches(Banje Beach)
Having mentioned how great it is to experience the waters of Dubrovnik and all they have to offer recreationally, what we haven't touched on are the beach themselves. As we can imagine, the beaches off Dubrovnik have everything you could think a port town could have. However, there is one beach that stands out above the rest. Among the various beaches in the city, Banje beach stands out with the simple fact that it incorporates other amenities. For example, the beach has everything from local beachfront restaurants to enjoy, private piers, and soft sand for when the waters are more inviting. Unsurprisingly, the way Banje beach incorporates other things is now seeing it being copied in other parts of the world. Despite this, it's hard to imagine that other beaches will ever be better than the original one in Dubrovnik.↑ Top
#10: Visit The Island Of Lokrum
Last but not least, another must-do activity in this Croatian city is to visit the island of Lokrum. The island is easily accessible just off of the shores of the city and makes the case as the best water spot around. It makes up a lush green environment that stands out from the blue waters around it. Also, it includes ruins of medieval times with a monastery that can be explored. It has also been one of the prominent filming spots for the Game Of Thrones series. While you can take the Game of Thrones tour that is offered, some would argue that exploring Lokrum island is much better when done alone or with a few people. ↑ Top