Dubrovnik Nightlife Has Something to Offer Everyone
One thing you will discover about the Dubrovnik nightlife is that there is a lot to do for a night. The nightlife experience is also a bit unusual. This is partly due to the fact that there are relatively few clubs but a large offering of bars and pubs. You will also be amazed by the variety of fine restaurants. You will be delighted with the brilliant architecture some of the night clubs offer. You might be inside raving in a cavernous fortress from the 16th century, you can also discover the stony walls of an ex-quarantine barracks. No matter where you find yourself you will discover a very special night.
Revelin Culture Club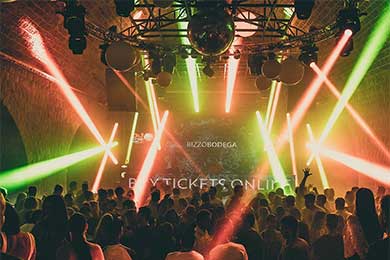 The first thing you will need to do is determine where you want to start your night out. To make matters easier let's go to a hot spot, the Revelin Culture Club. This is the 16th-century fortress nightclub. It is located at the eastern end of Dubrovnik's Old Town. This is the number one hot spots to go in the after hours when the lights are dimmed in other establishments indicating it is time to leave. At this dance party, you will enjoy the unique interior with bare stone blocks. They are complete with an arched aisle space providing lofty barreled roofs. The sights you see on the dance floor are the setting for a spectacular light show which is state-of-the-art. Revelin Culture Club Website
Copacabana Beach Dubrovnik
You might choose to meander down to the Copacabana Beach Dubrovnik. Management of this beach bar encourages you to enjoy the sea, sky, and wind along with the sunset, salt, and love. You might also enjoy the sirens and the sailors. Management wants to make your visit special, therefore bringing a long-lasting smile to your face as you enjoy what you see. You will undoubtedly enjoy the elegance along with simplicity. You are invited to view the beautiful pieces of art on display. Most of all, if you are in Dubrovnik for a few nights, the Copacabana Beach Dubrovnik hopes you will come back for a return engagement. Location Google Maps
Lazareti
Perhaps one of your most unique experiences on the nightlife scene will be a visit to Lazareti dance club. The stone spaces located in a former quarantine house, offer an arty underground nature. You will enjoy the brilliance of the DJs who will entertain you with their selection of electronica. In addition, you might want to plan to attend their international multimedia festival. During the festival, you will enjoy clubbing with cutting-edge music, dance, theatre and more. You can find more information on their Facebook or Lazareti Website
Banje Beach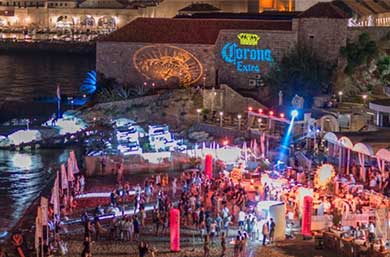 Your visit to Dubrovnik will not be complete without a visit to Banje Beach which is a beach and lounge bar. If you want to relax, have a few drinks, or enjoy a fine meal you can find everything here. It is considered a very "hip" establishment. You can relax in their lounge chairs as well as their exotic bamboo beds. You might also want to get a body massage. Be sure to wear your bathing suit so you can get into the crystal clear Adriatic. You might also enjoy a ride in a speed boat to explore the nearby city of Walls or go island hopping. During the evening hours, in a setting of exotic and fashionable atmosphere, you will be surrounded by torches and candles - it's time to party. Banje Beach Website
D'vino Wine Bar Dubrovnik
If you are in the heart of Dubrovnik Old Town you can enjoy a visit to the D'vino Wine Bar Dubrovnik one of the best wine bars Dubrovnik has. Here you will find a great selection of domestic and imported wines. You can select by ordering a glass, a bottle or a tasting serving. D'vino offers more than 60 wines from all over the world including Croatia, Chile, Australia, Spain, Italy, and France to name a few. Order your wine and then enjoy an intimate conversation. This is a great place to celebrate a special occasion. Or, if you prefer, you can just unwind and relax.
La Bodega
Another establishment located in Dubrovnik's historic center is La Bodega. This is a fine wine cellar which blends into the antique tavern which is surrounded by the city Walls of Dubrovnik. The authentic stone house, located on four floors, offers authentic prosciutto, along with cheeses from the different areas of Croatia. La Bodega offers more than 250 different domestic Croatian wines. You can enjoy a splendid afternoon as your table will provide you with prosciutto and truffle cheeses. This place is considered to be a true vision of Croatia. The evenings offer live music and dancing in a lively atmosphere. If you wish to visit in the mornings you will enjoy a variety of coffee. Or, if you prefer, you can order a freshly squeezed orange juice. La Bodega prides itself on the saying, "a great atmosphere where everybody is somebody."
Azur
If you are getting hungry from all of the walking you might be interested in visiting the Azur restaurant. The first Azur was opened in China by Chef Vedran Perojevic. Two years later he decided to return to his hometown. In doing so he brought with him the many Asian flavors along with the concept of Mediterranean cuisine with an Asian twist. Located on a quiet lane near the edge of the old town, Azur prides itself on serving delicious, high quality, fresh food. All of their meals are offered at affordable prices. The pricing is due to Chef Vedran's philosophy that his restaurant should be "fun dining" instead of fine dining. Azur Restaurant Website
The Bar By Azur
After a fine meal at the Azur, you might want to make the short walk to The Bar By Azur. Here you can chill out while listening to some fine tunes. The bar proudly offers a crew of outstanding bartenders and fully trained mixologists. Here you will most likely meet some awesome people in the cocktail lounge allowing you to have a fantastic time. The bar offers quality and fair prices. This is also the perfect place to celebrate your birthday or an anniversary. It's also a great venue for weddings, parties and other occasions. You have the option of hiring a semi-private room or the whole place allowing for eight to 80 guests who can also enjoy finger food or canapes. The staff wants to work with you so you will have a truly memorable event.
Cave Bar
Another location to enjoy a great drink is the Cave bar. If you want to enjoy your best morning coffee or spend your afternoon drinking cocktails from the cocktail bar or complete your day with champagne or cognac then this is the place for you. Perhaps the most inviting thing is the location which allows you to listen to the soft vibes of the sea while enjoying the gulls soaring through the sky. Some people have said this is the most attractive bar in the world. If you choose to you can have your drinks served in an area of a cave. You need to plan ahead if you hope to get a table at sunset. The views are spectacular. If you want to have your drinks inside, or out, the choice is yours and the spectacular views are for your enjoyment. Cave Bar Website
There is no doubt that Dubrovnik night life offers you a fantastic variety during your visit in Croatia. Aside from the sites, you will also enjoy a variety of dance clubs, the best bars, and restaurants. After dark when the sun has set, Dubrovnik has some of the best music venues where you can dance the night away. Each one is unique and has something fantastic you will enjoy.