Unless you've been to Budva, Montenegro, and laid back on one of its breathtakingly beautiful sun-kissed beaches, then you've not yet had the ultimate beach experience. Picture sand and sea with a backdrop of lush greenery, then you'll begin to get the idea of what makes these beaches the dream spots for real beach lovers across the globe.
It's mountainous terrain embracing the beach in a show of oneness. Yet, you can enjoy both separately.
Let us guide you along the impressive shoreline of Montenegro, and you can choose your favorite beach or visit them all.
Jaz Beach

Whether you plan to sunbathe or camp out for a few days only, Jaz beach is the right spot for everyone, including families. Both nature and beach enthusiasts enjoy going there because of the outbacks. It's like walking out of a forest onto a dazzling beach. This famous beach has also hosted several international concerts in recent years, is not lost on beauty despite its vastness.
It's a lengthy beach in Montenegro where water sport activities such as skiing, kayaking, or saddling a paddle boat are available at a minimal cost. Tasty meals can be bought at any of many restaurants and shops
The beach is divided into two sections called Jaz 1 & 2. The first one is more family-oriented and has all the beach entertainment, while Jaz 2 is more secluded. Either one you choose will be safe and guaranteed to satisfy.
Other articles you might like
Mogren 1 & 2 Beach

Cliffs and lush vegetation surround this Blue Flag beach; the beach is a lovers paradise but is still family-friendly. Picture walking between the rocks and looking across the Adriatic Sea or just turn around and look at the lovely foliage embracing the cliff behind the beach. It's a photographer's dream. The entrance fee to Mogren is quite reasonable and comes with an umbrella and chairs for either section, which is only divided by a small underpass. The Blue Flag status is due to Mogren's outstanding water quality; all the more reason to dive in.
Richard's Head Beach (Ričardova Glava)

If luxury is what you seek in a beach experience, Richard's is available for you to be satisfied with your core. Famous for a movie filmed there many years ago, this Blue Flag beach offers you a picturesque view of Old Town, a section of Budva rich in history. The icing on the cake is the pet-friendly area now available. Mix with locals and eat exquisite meals or grab a drink from a local bar. It's patrolled during opening hours and offers surfing, canoeing, and a wide array of watersports activities or just for a picnic—reasonably priced entrance cost.
Slovenska Plaza Beach (Plaja Slovenska)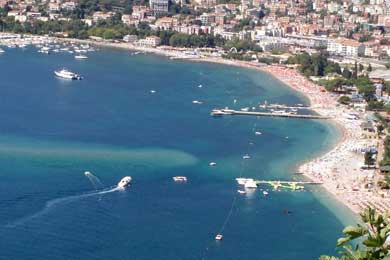 A view of the lively city to the right, elegant mountains behind it, long summer days, a pet-friendly section, adequate parking stretching for nearly a mile is how you'd describe Slovenska Plaza beach. The community is safe and quiet, even when the beach gets crowded. Teenagers love it, but so do group travellers and families. It's for everyone and quite affordable.
Becici and Rafailovici Beaches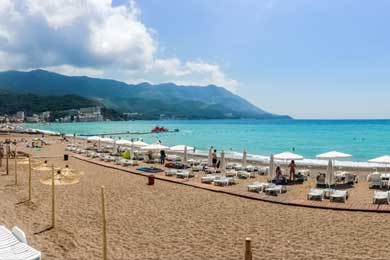 Bevici and Rafailovici lay right in front of a spa resort town filled with tourists seeking an elegant beach location. Known for being safe even at nights, the water has rocks that gently massage your feet, and has been ranked as a top beautiful beach for .ore than 80 years, even with all the changes over the years. Cafes and gift shops, bars, and affordable umbrellas are strewn along the beach. When you visit one beach, it's like you're at both since there is no boundary marker. The only warning for this lovely beach is that the water's depth is not easily defined, so be careful when wading outwards.
Sveti Stefan Resort

This is where you're likely to come across a celebrity at any given moment. It's an island with pink sand and sheet elegance all-around—a paradise fit for royalty. The beach is divided into two sections. One for the famous guests of the luxury hotel and the other for the general public. It costs a pretty 120 Euros to enter the hotel beach, but for many people, it's worth it. If you choose the public beach, you're still enjoying the smooth pink sand between your toes and a great view of the luxury resort. Real Island life feels. Most guests raved about the pizza and did it from Olive restaurant. Very safe, and the public beach is free.
Other articles you might like
Kamenovo Beach

It's laden with pebbles, but if you're a music fan, one of the DJs there will keep you rocking all day long with scintillating music. Many regard it as a top beach in Montenegro because of the variety of entertainment. It offers excellent parking, multiple restaurants, deck chairs, and parasols under $15. Parents are excited about the wifi for their kids and teens, and the staff is very welcoming. The magnificent sunset is with waiting for. At the end of your beach excursion, there are clean, changing rooms. It's an affordable full package beach experience for the whole family.
Perazica do Beach
This may be the most beautiful clearwater beach in the vicinity. Albeit an abandoned hotel nearby and a tunnel trek to get on the beach, you will be blown away by its magnificence. There are beach chairs for only 10 Euros and great food available. This beach is considered safe. It's a must-see, even for a short visit. Its secluded layout makes it ideal for couples and small groups of friends.
Drobni Pijesak Beach

A natural jewel, great for snorkeling and swimming, is how you would describe Drobny. It's tiny, but that's what makes it unique. You don't have to share the dazzling beauty of the water with a crowd. Because of the steep incline to get there, three levels of parking are available from three and six dollars. Guests love the food and the service at the beach bar. The sunset there is spectacular. It's also not very far from the luxurious island of Sveti Stefan. Whether you want to party, lay on the beach or play with your family, this beach is suitable for everyone.
Buljarica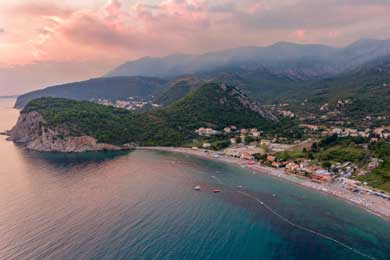 Last but not least is the beach for party seekers and entertainment lovers who want to enjoy the beach while they party. Buljarica is known for hosting the Sea Dance festival annually. It all happens at the end of August, and people from all over the world make the trip there. What happens between festivals? You'd be surprised to know that this is one of the most serene places to get away from the hustle and bustle of the city. It costs only three Euros to rent a sea chair at this beautiful off the trodden path beach and bask in the sunshine. Behind you is the fantastic greenery of Montenegro, which translates to a black mountain from its French origin. The beach is spacious and fun for groups and families alike. It's also pretty safe there.
Montenegro
Montenegro has a wealth of history and has endless entertainment for friends, families, and groups. Most importantly, the beach area in Budva, which lies in the Southwest of Europe, is rated among the best in the world. A recent report showed this gorgeous city as number one for its spectacular beach offerings and hospitality. The next vacation to Europe makes sure that a visit to this brand city tops your list. You pay little but get much when you visit Montenegro.