Montenegro became an independent country in 2006. Since then, it has become an exciting travel destination. It is marked with a wide range of beautiful scenery and amazing outdoor activities to enjoy with loved ones. But still, many people struggle to find "Montenegro where to visit."
If you are planning to make Montenegro your next vacation destination, here are some of the best places you should visit.
Ulcinj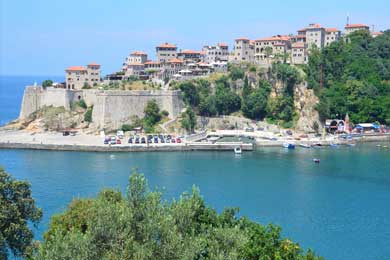 Ulcinj is found at the southern tip of the country, next to the Albanian border. Many years ago, Ulcinj was a seaport known as the pirate capital of the Adriatic Sea. The city has grown steadily, and today, it is packed with a wide range of sandy beaches.
Of all the many beaches, Long Beach is currently the most popular. Consider moving to the offshore island of Ad Bojana, and you will see more scenic beaches. In the warmer months, Ulcinj receives thousands of visitors from different parts of the globe. Move around and taste various types of coffee and kebabs in some of the best cafes in Ulcinj.
Kotor
For many people, this is the first place they would love to visit when they get to Montenegro. It is one of the most popular places in the country. Kotor is an old town that also serves as a UNESCO World Heritage site. To have the best experience in Kotor, consider exploring it in the morning.
From noon, the area receives many cruise ships as hundreds of visitors find their way to the picturesque town. There are snow-capped mountains and a long trail for those who would love to hike in this old town that looks more like something from a fairytale. Before you leave, be sure to climb the 1300 stairs to St. John's Fort.
Read more: Best things to do in Kotor, Montenegro
Biogradska Gora National Park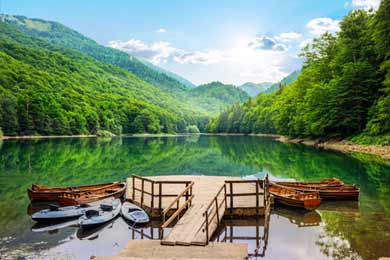 Biogradska Gora National Park is located in the heart of Montenegro. The National Park features a swift-running stream, shimmering lakes, and many other beautiful landmarks you wouldn't want to miss. It also features one of the few left primeval forests located in Europe.
Note that this is one of the smallest national parks in the country. But that doesn't mean it lacks beautiful things to keep you entertained. When it comes to flora and fauna, this national park has the widest variety in the entire country. Once they get to the national park, most visitors go to Lake Biograd to have a great time.
Read more: Biogradska Gora National Park
Perast
Note that Perast is one of the smallest towns in the whole of Montenegro, which in itself is a small country. Perast is located in the Bay of Kotor. This means it is one of the best day trips from Kotor; 15 km away. If you are an experienced hiker, you could easily move from Kotor to Perast.
If you asked anyone who has been there, they would say there are two highlands located in from of Perast. They are the ones that make the town unique. One of the highlands has a church anyone can visit.
Risan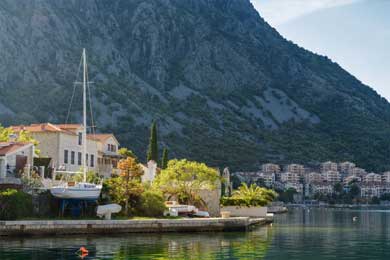 This is another great town located in the Bay of Kotor. Since it is small, it is easy to think that it has very little to offer. But you will be amazed when you get there. The town has a wide popularity thanks to its 2nd-century Roman Mosaics.
While in Risan, you can get to the archaeological station to experience the mosaics yourself. Note that Risan might not look great when compared to Kotor and Perast, but you might still want to stop and take in the dazzling views of the Kotor Bay. It also has a short trail for those who like to hike.
Sveti Stefan
Sveti Stefan is a unique area in Montenegro and is located along the Budva Riviera. The place is situated on a rocky island, so you can imagine how the terrain looks and feels like. Since the 15th century, this place has served as the home to a simple fishing community.
However, after some time, the inhabitants were evicted, and Sveti Stefan was then improved into a luxury town-hotel. However, amid the breakup of the Yugoslav federation, Sveti Stevan faced a lot of problems and could not operate.
However, it reopened its doors in 2010. The place has a huge story, so you want to go there and have a unique experience with your loved ones.
Budva
Budva has gained popularity as one of the best travel destinations in Montenegro. Budva Riviera, for instance, is the best spot for tourists and locals alike; all for good reasons. It is an old town that is small, but no less amazing than Kotor. It features Venetian walls that date back to more than 2500 years ago.
Budva also boasts some of the most attractive beaches in the entire country. Many rich and famous people go to Budva to unplug and relax as they watch the blue waters and bathe in the warm sun. They also take advantage of the fact that Budva has some of the best restaurants in Montenegro.
Read more: Best things to do in Budva, Montenegro
Skadar Lake
Still unsure about "Montenegro where to visit?" you should try Skadar Lake. This is the place to be if you are planning to travel with your friends and loved ones. Skadar Lake is the largest in the entire Balkans. It stretches to the Montenegrin border.
Note that the best part of this lake is located in Montenegro, and it has some of the best beaches that will make your vacation exceptional. You will notice many visitors pulling over on the roadside to take pictures of the horseshoe curve of Skadar Lake. You can get a range of local and foreign cuisines in the nearby restaurants and eateries.
Read more: Skadar Lake National Park Montenegro
Durmitor National Park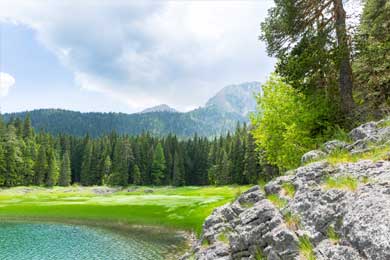 Up to this stage, you should have learned that Montenegro has some amazing coastline cities. However, many people tend to overlook the breathtaking natural attractions in Montenegro. One of them is the Dumitor National Park. It is located in the North of the country, and you can visit it during your trip from Kotor.
If you like, you could add it to your road trip itinerary. This national park is the home to the famous 18 glacial lakes in Montenegro. You will also see a vast range of mountains and canyons, meaning outdoor lovers will have more than enough playgrounds.
Read more: Durmitor National Park Montenegro
Closing Thoughts
Montenegro is marked with a wide range of beautiful scenery and notable outdoor activities to enjoy with loved ones. The country has many parks and beaches, so you will have a great time sunbathing as you connect with the flower and fauna around. If you are an avid hiker, the small towns have enough trails to let you view the natural sceneries available.